EAO Corporation IP69K Sealed Series 45
EAO's new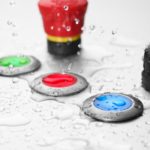 Series 45 is an all-inclusive product range that offers a host of functions including pushbuttons, indicators, emergency stop switches, keylocks, selectors, toggle sticks, toggle switches, RFID products, and more. These sleek new products offer bright uniform LED illumination, intuitively easy operation and assembly, clear tactile feedback, and an extended mechanical service life of up to 10 million switching cycles. Their robust design with attractive metal or plastic construction prevents dust and liquid ingress to ensure reliable operation even in the most extreme industrial applications. The new and innovative "single-handed" mounting further assists their exterior protection by use of an external sealing gasket with built-in anti-rotation feature. This gasket essentially holds the switch firmly in place within the panel while the mounting collar is snapped on and fixed with a single screw guaranteeing fast intuitive assembly – without the need of special tools or a second hand.
Advantages
* Robust metal or plastic construction with IP69K protection
* Fast and simple assembly without the use of special tools
* Attractive design with uniform LED illumination
* Long mechanical service life of up to 10 million switching cycles
* Modular construction with many standard and customer-specific options
* Flush and raised mounting in industry standard 22.5mm and 30.5mm cut-outs
EAO HMI Components and HMI Systems are ideal for their specified use and have successfully proven themselves in a wide range of industries in respect of their design, reliability and long service life.